Hello all, here are some ideas and exciting new products for 2015…..  100 Euro Cash Back on all PRIMERA label printers and applicators though our registered dealers.
NEW DURABLE PIGMENT PRINTER  LX2000e!!!
NEW DURABLE PIGMENT INK FOR LX900e!!!
PIGMENT INK WITH NEW LABEL TYPES
UPGRADE TO A BULK TANK SYSTEM AND SAVE MORE MONEY
NEW BULK TANK PIGMENT INK PRINTERS FOR DURABLE LABELS
DIGITAL CUTTING WITH LAMINATING USE LOW COST UNCUT ROLLS

MORE LABEL PRINTER CHOICES TO REDUCE COSTS 
OVER 2000 LABELS SIZES AVAILABLE!  NEW LIST PUBLISHED

1. NEW FOR 2015 > YOWZA – NEW DURABLE PIGMENT INK  PRINTER LX2000e!!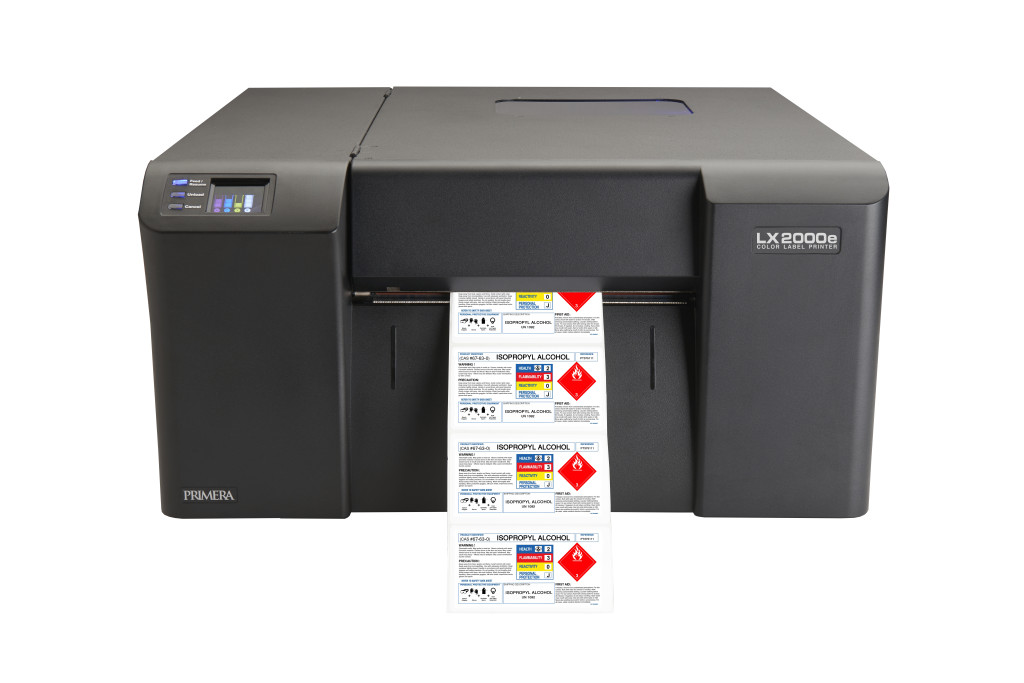 Yes its nearly here, the long awaited PRIMERA LX2000e, we will have it ready for our second big trade show PRO2PAC  (22-25 March London EXCEL, Stand S2502) showing our label printing and finishing solutions, applicators, labels, software and the new LX2000e will be there ! Click her to register
2. NEW FOR 2015 > YOWZA – NEW DURABLE PIGMENT INK FOR LX900e!!!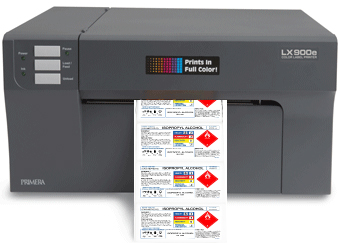 We have been testing the new durable pigment ink for the PRIMERA LX900e. If you already own an LX900e or are thinking of getting one, it means you can print labels that are even more durable against moisture, vapours, chemicals, even outdoor use.

GHS / CLP / BS5609 Compatible
3. PIGMENT INK WITH NEW LABEL TYPES
With our SJET or CJET matt white pp and the new pigment ink, labels can have an outdoors life in the rain and sunlight. This opens new opportunities for labelling plants, chemical containers and refrigerated and frozen goods.  In tests our high grab SEAJET (SJET) labels have been tested, yes, in the sea! and withstand 6 months marine submersion and bright sunlight to pass GHS /CLP BS5609 durability requirements and SJET still prints with the amazing 4800 dpi photo quality printing of the LX900e, albeit not quite so bright colours but hey some need that performance right?  We also have a nice satin and a high gloss pp that look brighter for prime packaging with good good moisture and rub durability but not passing 6 months under water test if you need that its SJET for you.
The pp labels give a greater flexibility when on the product to avoid wrinkles with storage temperature variations that can happen with paper types.  Having said that pigment ink can be used on a wider range of papers including uncoated types with a textured finish popular for say wine bottles, preserves jars and items needing that crafted look.  We promised the arrival of the new PIGMENT ink in your LX900e for a while, now its here so take advantage. (New pigment ink requires a separate print head carrier so purchase a separate head with the pigment ink set, you can then swap then between original dye and pigment but never mix the ink types in one head as the water based dye and new pigment inks don't mix).
4. UPGRADE TO A BULK TANK SYSTEM AND SAVE MORE MONEY
Small colour label printers use small ink cartridges typically with a capacity of 10 to 11 millilitre (ml) of ink and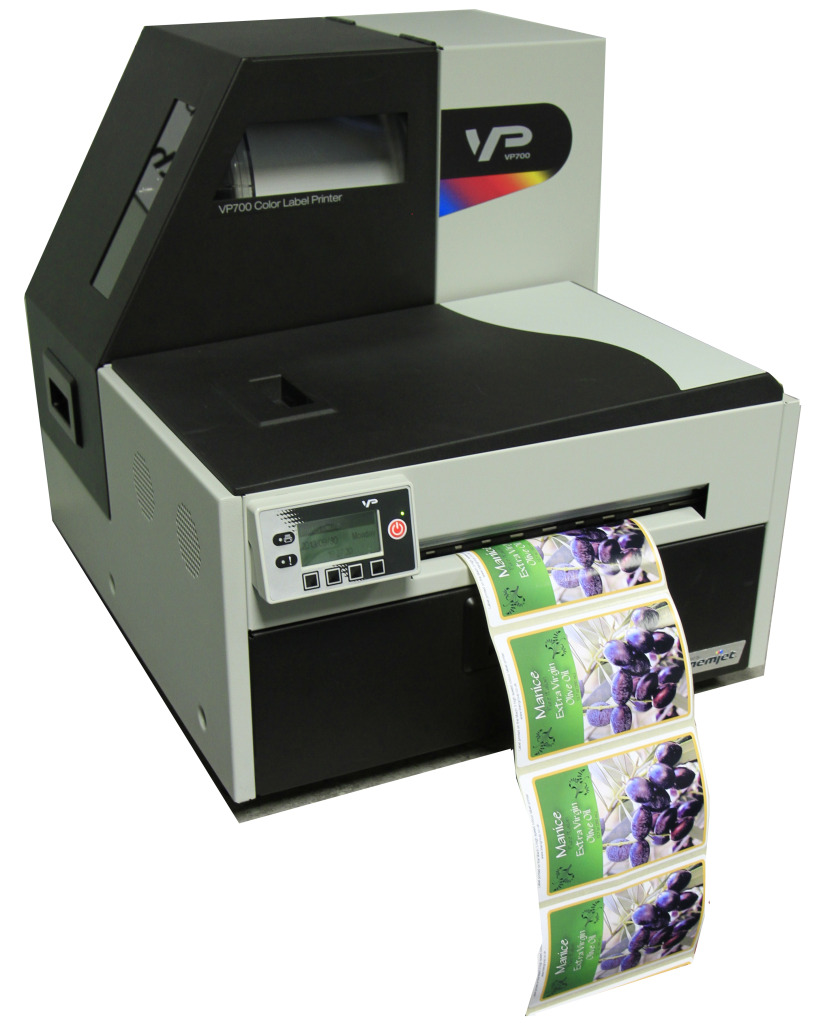 costing around £22 or £44 if with print head nozzles.  Switching to a new bulk ink tank printer like the VP700e occupying a similar desk top space brings a printer with five large 250ml ink tanks (cymkk) thats 1.25 Litres of ink and much lower cost per ml and lasting a lot longer.  For example small ink cartridges costing lest say £3 per ml are replaced by bulk tanks at £114 that's just 47p per ml, more than 6 times less cost. Furthermore bulk tank printers print at an amazing 12 inches (300 mm) per second so only a few moments to print all the days needs.  Some sandwich and bakery customers who have switched to bulk tank printing say they print labels for 1/10 of the cost, this is generally proven in a print test as the new printers have fixed print heads and appear even more economical on ink.  Ask us if its possible trade in your existing label printer and maximise you savings and flexibility by printing your own labels.
5. NEW FOR 2015 > NEW BULK TANK PIGMENT INK PRINTERS FOR DURABLE LABELS EVEN OUTDOOR USE GHS/CLP/ BS5609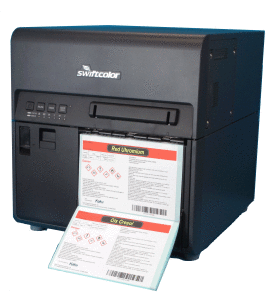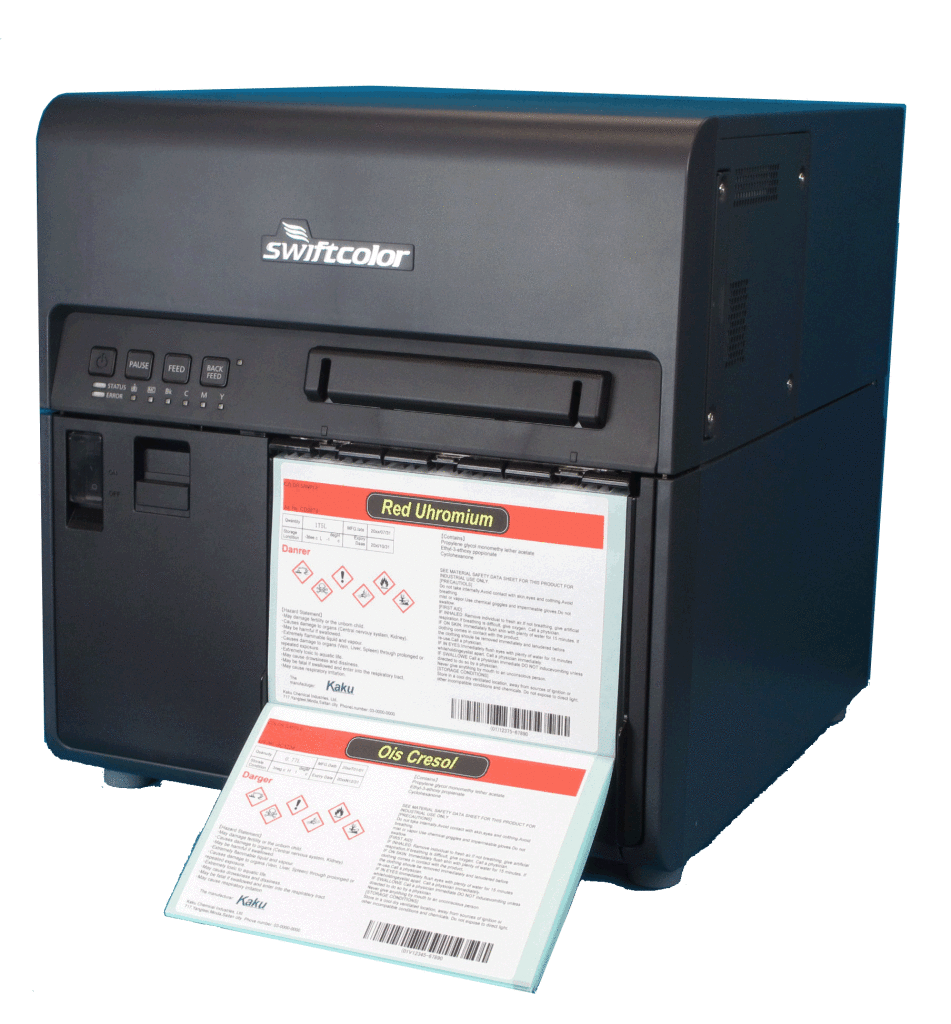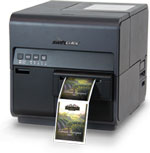 We have had for a few years now the popular VP495e pigment printer that prints labels hardened for outdoor use.  Now more printers arrive with durable pigment ink like SCL-4000P 4 inch and and the unique extra wide SLC-8000P 8 inch bulk ink pigment printers, part of the SwiftColor family.   Our SEAJET (SJET) matt white pp label material is BS5609 approved. That means labels can withstand 6 months in the sea and when printed high levels of sunlight exposure. This opens up new application areas including printing durable labels for very high water resistance, outdoor labelling and storage, international shipping and chemical resistant labels even at high speeds.
all 
GHS / CLP / BS5609 Compatible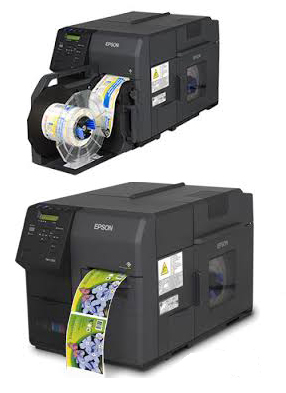 With the EPSON C7500g Pigment roll fed colour label printer its possible to print your own labels in full colour at 1200dpi and sustained high quality and high speed of 300mm (1 foot) per second. The C7500g has extra-large ink tanks of 300ml each colour CYMK truly a bulk tank printer meaning the cost per printed label is tiny and suited especially to high volume applications like food, snack and drink bottle labelling for example.
The C7500g with its ULTRACHROME inks for glossy labels is being used with our FMS food recipe and nutrition labelling software in our program to replace mono printers with full colour variable labels capability.
The C7500 model with ULTRABRIGHT extra durable inks are suited more to matt finish and especially plastic labels for outdoor and BS5609 marine submersible specification resisting chemicals and oils and sunlight resistant and with international languages when shipping to hot countries for example.
6. NEW FOR 2015 >  DIGITAL CUTTING WITH LAMINATING USE LOW COST UNCUT ROLLS
A new trend for customers who have need a wide range of labels sizes is to print onto uncut self adhesive paper or durable pp then cut out the labels to any size or shape using a digital printer with a digital cutter finisher. 

Depicted in the picture above we deliver even lower cost uncut slit rolls of label media on a pallet, a bulk tank digital ink jet colour roll printer (with roll rewinder not shown here) and a digital cutter finisher.  The rolls of images printed on the label roll printer are passed to the finisher where the images can be optionally laminated with a clear pp film before being cut out to make labels any size any shape.  In the set up shown the vp700e Memjet ink printer provides very low cost high speed print whilst the SCORPIO optionally laminates for protection and extra label durability, then cuts to shape and winds to finished rolls. The SCORPIO even slits the labels to correct width rolls if the images are printed 2, 3, 4 or more across say for smaller labels cut from the 216 available width.  So any size or shape labels from quite small but including A6 (100×150),  A5 (148×210) and even A4 (210 x 295) are possible good for small jars, bottles, boxes, bulk containers and even drums, and no tool costs!  The SCORPIO digital cutter finisher can be used with other types digital label printers,  just tell us the make and model to check out compatibility.
See more products for digital cutting and finishing here
7. MORE LABEL PRINTER CHOICES TO REDUCE COSTS 
MOVE TO PRINTING YOUR OWN LABELS IN HOUSE IN COLOUR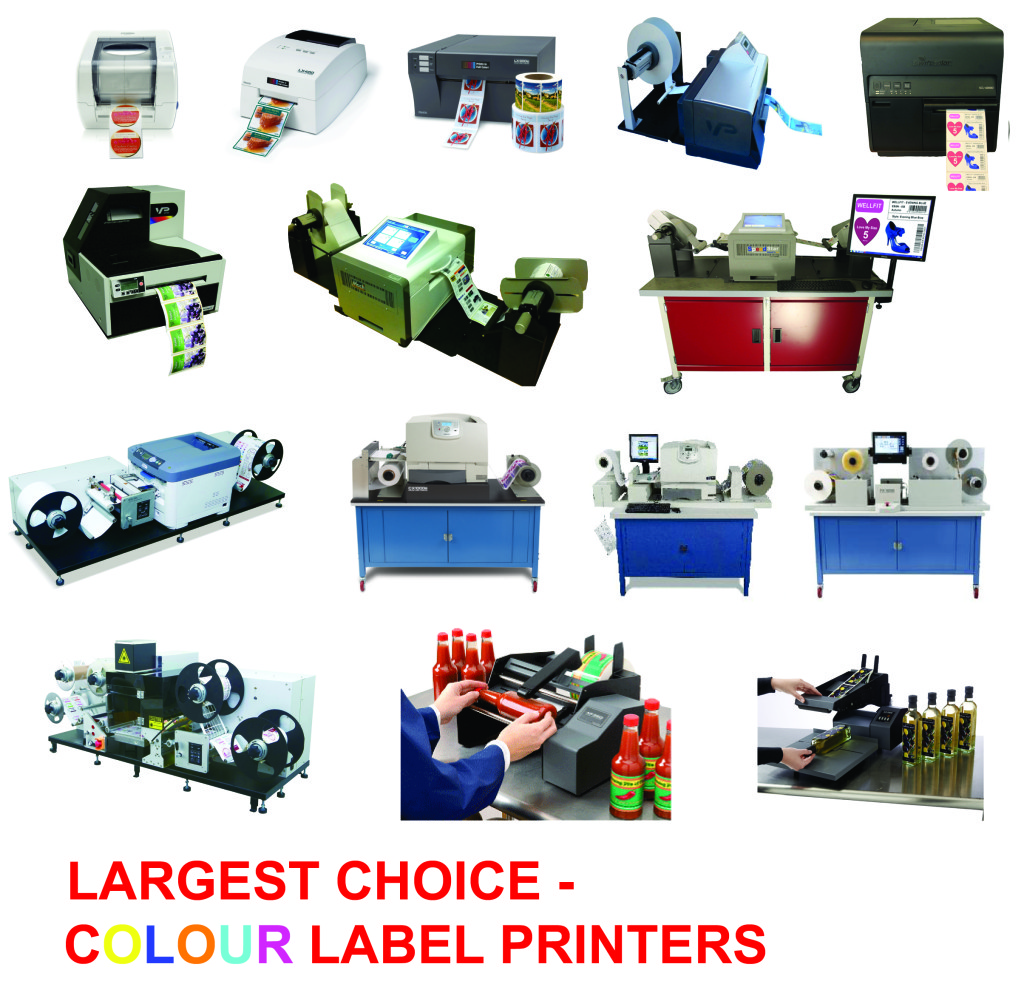 If you buy in colour labels for use on your products have you noticed the increasing costs, storage space needed and wastage when they go out of date before you can use them?  Speak to me about printing your own labels in house.  We distribute the largest range of desk top and desk size digital label printers to suit all budgets as well as providing systems on a low cost lease purchase scheme avoiding capital outlay. Our customer save money on every label printed in house by printing only as many labels as they need each day for each product.  Some of our customers now print full colour labels from low cost blanks we supply on rolls and at a lower cost than using pre-printed labels and a ribbon over printer.
8. OVER 2000 LABELS SIZES AVAILABLE!  NEW LIST PUBLISHED
We have increased our list of labels sizes available direct from our ISO9000 factory click here to go to the list
AND MORE
For a look at our complete range of label printers, finishers, winders, labels, inks, and support visit our corporate web site click here 
Thanks
Robert Knox, MD, KTEC GROUP UK