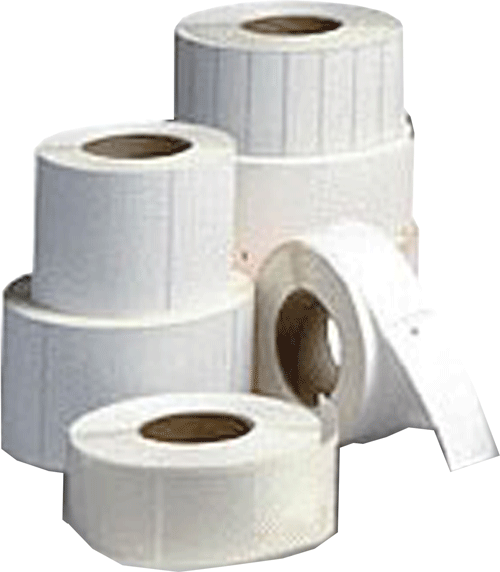 KTEC GROUP is the largest UK producer of ready cut labels on rolls especially for colour labels printers. The labels are available in one of three ways….1, 2, 3
1) PRIMERA ROLLS
These rolls of labels are a convenient way to buy a single roll for testing or a number of rolls if your needs are small to start with.
They are available to order are from our PRIMERA store in Germany we have delivery each week to the UK so can call across and deliver the rolls you need.
There are available in gloss paper, mat paper, vintage textured paper, gloss pp, mat pp (BOP) and clear pp all are available for ordering with a delivery of 5-7 days.  In the list below make sure you are looking at the section with your printer name at the heading like LX400e/LX500e for small 4 inch diameter rolls to fit these models or LX800e/Lx810e/LX900e/LX2000e are the larger 6 inch diameter rolls for these models. When you find the size and type needed note the product code and call us to order 0044 (0) 1527 529713 and ask for 'stock label orders department', scroll down to see the range stocked, the table shows the Part Number, Size in inches, Size in mm, Quantity on the roll.
2) NEED LABELS FASTER?
See also a range of gloss white paper labels held in our UK store for next day delivery CLICK HERE these can be added to your basket and ordered on line or call us to order 0044 (0) 1527 529713 and ask for 'stock label orders department'
3) CHOOSE FROM  THOUSANDS OF SIZES AND DIFFERENT MATERIALS
If you can wait 7-10 days whilst we cut you labels they are often lower cost and we have thousands of cutters so can save a cutter charge especially for matt, semi=gloss and  gloss paper types .  To browse a list of cutters we have CLICK HERE find the cutter number and call us to order on 0044 (0) 1527 529713 and ask for 'custom size orders department', We also have the raw rolls of papers and plastic pp label media so don't be afraid to ask for a quotation for custom labels in the matt, semi-gloss, gloss and clear pp too as well as the standard gloss and vintage textured papers.  Be sure to discuss you application with us and get a printed sample for testing the print and the adhesive on you product before you order a large quantity.
Labels are normally supplied cut to shape on a roll with wastage removed, but by request we can also kiss cut the shape needed into a rectangle leaving a convenient waste/ edge area in which to bleed the printed colour image over the edge of the label, this is important if you need to print labels with full colour cover let us know >>> ?
CLICK HERE << to send us a question or enquiry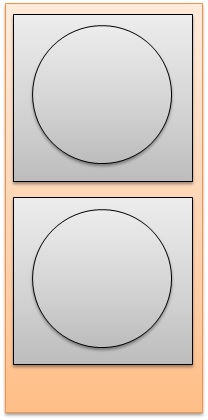 | LX200e/LX400e Labels Paper HIGH GLOSS (2" ID and 5" OD) | | | |
| --- | --- | --- | --- |
| 074716HIS | 1,375" Circle | 35 mm | 1,000 |
| 074713HIS | 1,75" Circle | 45 mm | 1,100 |
| 074707HIS | 2,5" Circle | 64 mm | 800 |
| 074703HIS | 1,5"x1,5" | 38 x 38 mm | 900 |
| 074704HIS | 2" x 1" | 51 x 25 mm | 1400 |
| 074718HIS | 2" x 2" | 51 x 51 mm | 850 |
| 074705HIS | 2"x 6" | 51 x 152 mm | 350 |
| 074719HIS | 2,5"x 6" | 64 x 152 mm | 350 |
| 074706HIS | 2,5"x 7" | 64 x 178 mm | 300 |
| 074724HIS | 3" x 1" | 76 x 25 mm | 1,400 |
| 074720-038HIS | 3" x 2" | 76 x 51 mm | 1,000 |
| 074708HIS | 3" x 2,5" | 76 x 64 mm | 800 |
| 074720HIS | 3" x 3" | 76 x 76 mm | 700 |
| 074715HIS | 3" x 5" | 76 x 127 mm | 400 |
| 074709HIS | 3" x 6" | 76 x 152 mm | 350 |
| 074721HIS | 4" x 1,5" | 102 x 38 mm | 900 |
| 074710HIS | 4" x 2" | 102 x 51 mm | 850 |
| 074711HIS | 4" x 3" | 102 x 76 mm | 700 |
| 074723HIS | 4" x 4" | 102 x 102 mm | 500 |
| 074712HIS | 4" x 6" | 102 x 152 mm | 350 |
| 075400 | 4" x 3" Tags(no adhesive) | 102 x 76 mm | 500 |
| LX810e / LX900e / LX2000e Labels Paper HIGH GLOSS (3" ID and 6" OD) | | | |
| 074886HIS | 1,375" Circle | 35 mm | 1775 |
| 074853HIS | 1,5" Circle | 38 mm | 1600 |
| 074891HIS | 1,75" Circle | 45 mm | 1400 |
| 074855HIS | 2" Circle | 51 mm | 1250 |
| 074839HIS | 2,5" Circle | 64 mm | 1,000 |
| 074828HIS | 3" Circle | 76 mm | 850 |
| 074827HIS | 4" Circle | 102 mm | 625 |
| 074854HIS | 2" x 1" Oval | 51 x 25 mm | 2,300 |
| 074858HIS | 3" x 2" Oval | 76 x 51mm | 1,250 |
| 074800HIS | 1,5"x1,5" | 38 x 38 mm | 1600 |
| 074801HIS | 2" x 1" | 51 x 25 mm | 2,300 |
| 074802HIS | 2" x 2" | 51 x 51 mm | 1,250 |
| 074856HIS | 2" x 4" | 51 x 102 mm | 625 |
| 074884HIS | 2"x 6" | 51 x 152 mm | 425 |
| 074848HIS | 2" x 8" | 51 x 203 mm | 300 |
| L36HG063038HIS | 2,5"x1,5" | 64 x 38 mm | 1,625 |
| 074857HIS | 2,5"x2,5" | 64 x 64 mm | 1,000 |
| 074860HIS | 2,5"x 6" | 64 x 152 mm | 425 |
| 074893HIS | 2,5" x 7" | 64 x 178 mm | 375 |
| 074851HIS | 3" x 1" | 76 x 25 mm | 2,300 |
| 074834HIS | 3" x 1,5" | 76 x 38 mm | 1,600 |
| 074803HIS | 3" x 2" | 76 x 51 mm | 1,250 |
| 074804HIS | 3" x 2,5" | 76 x 64 mm | 1,000 |
| 074889HIS | 3" x 3" | 76 x 76 mm | 850 |
| 074859HIS | 3" x 4" | 76 x 102 mm | 625 |
| 074888HIS | 3" x 5" | 76 x 127 mm | 500 |
| 074876HIS | 3" x 6" | 76 x 152 mm | 425 |
| 074892HIS | 3" x 8" | 76 x 203 mm | 300 |
| 074894HIS | 3,5" x 3,5" | 89 x 89 mm | 700 |
| 074874HIS | 4" x 1,5" | 102 x 38 mm | 1,600 |
| 074805HIS | 4" x 2" | 102 x 51 mm | 1,250 |
| 074806HIS | 4" x 3" | 102 x 76 mm | 850 |
| 074807HIS | 4" x 4" | 102 x 102 mm | 625 |
| 074815HIS | 4" x 6" | 102 x 152 mm | 425 |
| 074808HIS | 5" x 4" | 127 x 102 mm | 625 |
| 074809HIS | 5" x 5" | 127 x 127 mm | 500 |
| 074810HIS | 6" x 2" | 152 x 51 mm | 1,250 |
| 074895HIS | 6" x 3" | 152 x 76 mm | 850 |
| 074811HIS | 6" x 4" | 152 x 102 mm | 625 |
| 074812HIS | 8" x 4" | 203 x 102mm | 625 |
| 074813HIS | 8" x 6" | 203 x 152 mm | 425 |
| 074814HIS | 8" x 8" | 203 x 203 mm | 300 |
| LX810e / LX900e / LX2000e Labels Paper MATTE (3" ID and 6" OD) | | | |
| L36M045C-HIS | 1,75" Circle | 45 mm | 1,400 |
| L36M064C-HIS | 2,5" Circle | 64 mm | 1,000 |
| L36M038038HIS | 1,5" x 1,5" | 38 x 38 mm | 1,625 |
| L36M051025HIS | 2" x 1" | 51 x 25 mm | 2,300 |
| L36M051051HIS | 2" x 2" | 51 x 51 mm | 1,250 |
| L36M076025HIS | 3" x 1" | 76 x 25 mm | 2,375 |
| L36M076051HIS | 3" x 2" | 76 x 51 mm | 1,250 |
| L36M076063HIS | 3" x 2,5" | 76 x 63 mm | 1,000 |
| L36M076102HIS | 3" x 4" | 76 x 102 mm | 625 |
| Part number | Description | Size in mm (rounded) | Labels per roll |
| L36M076127HIS | 3" x 5" | 76 x 127 mm | 500 |
| L36M101038HIS | 4" x 1,5" | 102 x 38 mm | 1,625 |
| L36M101051HIS | 4" x 2" | 102 x 51 mm | 1,250 |
| L36M100075HIS | 100 mm x 75 mm | 100 x 75 mm | 850 |
| L36M101101HIS | 4" x 4" | 102 x 102 mm | 625 |
| L36M152101HIS | 6" x 4" | 152 x 102 mm | 625 |
| L36M203101HIS | 8" x 4" | 203 x 102 mm | 625 |
| LX810e / LX900e / LX2000e Labels VINTAGE Paper (3" ID and 6" OD) | | | |
| L36VP051076ONE | 2" x 3" Vintage | 51 x 76 mm | 775 |
| L36VP102076ONE | 4" x 3" Vintage | 102 x 76 mm | 750 |
| 075933 | 4" x 4" Vintage | 102 x 102 mm | 475 |
| LX810e / LX900e / LX2000e Labels POLY White Gloss (3" ID and 6" OD) | | | |
| 075900UPM | 2" x 1" White | 51 x 25 mm | 2,250 |
| 075906HIS | 2" x 8" White | 51 x 203 mm | 325 |
| 075907HIS | 2,5" Circle White | 64 mm | 900 |
| 075901UPM | 3" x 2" White | 76 x 51 mm | 1,200 |
| 075902HIS | 3" x 2,5" White | 76 x 64 mm | 900 |
| L36PWG076076HIS | 3" x 3" White | 76 x 76 mm | 850 |
| 075908HIS | 3" x 5" White | 76 x 127 mm | 500 |
| 075903HIS | 4" x 2" White | 102 x 51 mm | 1,200 |
| 075904UPM | 4" x 3" White | 102 x 76 mm | 1,000 |
| 075905HIS | 4" x 6" White | 102 x 152 mm | 400 |
| LX810e / LX900e / LX2000e Labels POLY White Matte / Poly White Matte Eco and BOPP (3" ID and 6" OD) | | | |
| L36PWME038038HIS | 1,5" x 1,5" Poly White Matte | 38 x 38 mm | 1,575 |
| L36PWM051025HIS | 2" x 1" Poly White Matte | 51 x 25 mm | 2,300 |
| L36PWME051152HIS | 2" x 6" Poly White Matte Eco | 51 x 152 mm | 400 |
| L36PWM051203HIS | 2" x 8" Poly White Matte | 51 x 203 mm | 300 |
| L36PWM076051HIS | 3" x 2" Poly White Matte | 76 x 51 mm | 1,250 |
| L36PWME076063HIS | 3" x 2,5" Poly White Matte | 76 x 64 mm | 975 |
| L36PWME076127HIS | 3" x 5" Poly White Matte Eco | 76 x 127 mm | 500 |
| L36PWME101051HIS | 4" x 2" Poly White Matte Eco | 102 x 51 mm | 1,200 |
| 075994ONE | 100 x 75 mm White Matte BOPP | 100 x 75 mm | 850 |
| L36PWME101076HIS | 4" x 3" Poly White Matte | 102 x 76 mm | 850 |
| L36PWME101152HIS | 4" x 6" Poly White Matte Eco | 102 x 152 mm | 400 |
| LX810e / LX900e / LX2000e Labels POLY Clear Gloss Eco (3" ID and 6" OD) | | | |
| L36PCGE051C-HIS | 2" Circle Clear | 51 mm | 1,250 |
| L36PCGE063C-HIS | 2,5" Circle Clear | 63 mm | 1,000 |
| L36PCGE051025HIS | 2" x 1" Clear | 51 x 25 mm | 2,375 |
| L36PCGE051051HIS | 2" x 2" Clear | 51 x 51 mm | 1,250 |
| L36PCGE076025HIS | 3" x 1" Clear | 76 x 25 mm | 2,375 |
| L36PCGE076051HIS | 3" x 2" Clear | 76 x 51 mm | 1,250 |
| L36PCGE101051HIS | 4" x 2" Clear | 102 x 51 mm | 1,250 |
| L36PCGE101076HIS | 4" x 3" Clear | 102 x 76 mm | 850 |
| 075953 | 4" x 2" Clear | 102 x 51 mm | 1,200 |
| 075970-171 | 4" x 6" Clear | 102 x 152 mm | 325 |
| LX200e/LX400e Labels POLY White Gloss (2" ID and 5" OD) | | | |
| 075840HIS | 2" x 1" White | 51 x 25 mm | 1,125 |
| 075847HIS | 2,5" Circle White | 64 mm | 700 |
| L25PWG076051HIS | 3" x 2" White | 76 x 51 mm | 600 |
| 075841HIS | 3" x 2,5" White | 76 x 64 mm | 700 |
| 075842HIS | 4" x 2" White | 102 x 51 mm | 900 |
| 075843HIS | 4" x 3" White | 102 x 76 mm | 600 |
| 075844HIS | 4" x 6" White | 102 x 152 mm | 325 |
| LX200e/LX400e Labels POLY White Matte Eco and BOPP (2" ID and 5" OD) | | | |
| L25PWM051025HIS | 2" x 1" Poly White Matte | 51 x 25 mm | 1,400 |
| L25PWME076051HIS | 3" x 2" Poly White Matte Eco | 76 x 51 mm | 900 |
| L25PWME076063HIS | 3" x 2,5" Poly White Matte | 76 x 64 mm | 725 |
| L25PWM101051HIS | 4" x 2" Poly White Matte | 102 x 51 mm | 850 |
| L25PWM101076HIS | 4" x 3" Poly White Matte | 102 x 76 mm | 700 |
| L25PWM101152HIS | 4" x 6" Poly White Matte | 102 x 152 mm | 350 |
| LX200e/LX400e Labels POLY Clear Gloss Eco (2" ID and 5" OD) | | | |
| L25PCGE063C-HIS | 2,5 Circle" Clear | 63 mm | 800 |
| L25PCGE051025HIS | 2" x 1" Clear | 51 x 25 mm | 1,900 |
| L25PCGE051051HIS | 2" x 2" Clear | 51 x 51 mm | 1,000 |
| L25PCGE076025HIS | 3" x 1" Clear | 76 x 25 mm | 1,900 |
| L25PCGE076051HIS | 3" x 2" Clear | 76 x 51 mm | 1,000 |
| L25PCGE101051HIS | 4" x 2" Clear | 101 x 51mm | 1,000 |
| L25PCGE101076HIS | 4" x 3" Clear | 102 x 76 mm | 675 |
| 075875 | 2" x 8" Clear | 51 x 203 mm | 250 |