hf Chocolates Case Study
hf Chocolates installs Epson ColorWorks C7500 for in-house, on-demand label printing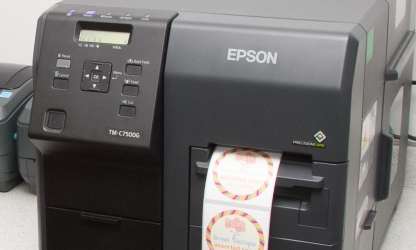 hf Chocolates, chocolate and confectionery importer and a a long stranding customer of KTEC GROUP in the UK has invested in an Epson ColorWorks C7500 Series colour label printer to meet its in-house, on-demand, bespoke labelling needs.
Based in Milton Keynes, with a workforce of around 25 people, hf Chocolates imports chocolate and confectionery products in bulk from suppliers in Belgium, France, Germany, Holland, Italy, Spain and the US.  More recently, it has added a number of British suppliers to its range. The company supplies the products as they are or re-packaged to the retail trade – mainly the independent or specialist sector – and wholesalers.
It also offers an 'own label' design and print service to customers that require low quantities of items with their own logos and branding.  hf Chocolates produces colour labels in a wide range of shapes and sizes. Prior to investing in a ColorWorks C7500 series, the company was using a desktop vinyl printer and cutter that was good for quality and handling a variety of labels but then manual cutting of the labels was very slow and impractical for anything other than short runs.
Ambrose Boyd, hf Chocolates commercial manager, commented: 'For us, being able to produce bespoke labels on-demand was really about gaining flexibility and the ability to respond to market quickly as buying pre-printed labels was simply too cumbersome and not at all cost effective, unless huge volumes were involved. We had a clear idea of what we needed – a fast printer that could print high quality consistently and was cost-effective, not just from a purchasing point of view but also running costs and simple to use regards manning levels.'
Other key requirements for hf Chocolates was a printer that would align circular label graphics correctly throughout the run and high-capacity ink cartridges, which would cut production time and wastage and provide a lost cost for each print.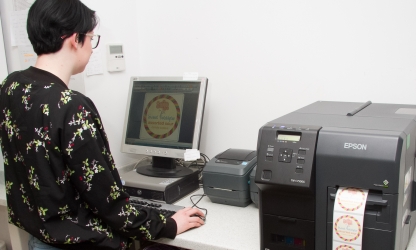 The introduction of the ColorWorks C7500 by Epson Colour +Plus Gold Partner KTEC GROUP has resulted in a substantial reduction in both production time and costs for the business. The ColorWorks C7500 series machine was installed and set-up by one person in a day, with very little disruption to the company's day-to-day production.
'We had the demo and checked our existing software was compatible with the ColorWorks C7500 series, it was obvious that it was the solution for us,' added Boyd. 'We looked at other machines but nothing else came close to its speed. Our main focus was printing on circular labels as we had many problems doing this previously. This printer passed the test its extra long paper guides help to maintain print over label position even at the high speeds of 150 and 300 mm per second.
'On our previous printer we could print around 98 labels in 45 minutes, and on the ColorWorks C7500 series we're producing 200 plus labels in a few minutes. It's now very easy for us to produce short runs of customized labels and because of its speed, all labels can be printed as and when needed so we don't need to hold large quantities of costly stock only low cost blank labels and some bulk ink tanks .  Printing on-demand has also eliminated the risk of packaging error, such as using the wrong pre-printed labels. The whole production workflow is much smoother and more cost-effective.'
One of the largest jobs in terms of volume of labels that hf Chocolates produces on the printer is for the Candy Cables confectionery bags, with an average volume of around 10,000 of the 70 mm round labels being output per month. The labels are all applied manually using a printed template for the different bag sizes.
In the future, hf Chocolates is looking to expand its range of labels which will be produced using the ColorWorks C7500 series.  'We're currently looking at what jobs can be moved over to the new printer. It makes perfect sense that the more labels we can run through it the better, not only from a speed point of view but it also cuts our staffing and production costs considerably,' concluded Boyd.
CLICK TO WATCH KTEC GROUPS  EPSON C7500 ColorWorks SECRETS REVIELD VIDEO
Call KTEC GROUP sales for advise on your on demand label printing 0044 1527 529714
Email:sales@ktecgroup.co.uk
Label Enquiries: labelsales@ktecgroup.co.uk   (over 5000 sizes available and custom shapes too)
PRINT YOUR OWN LABELS