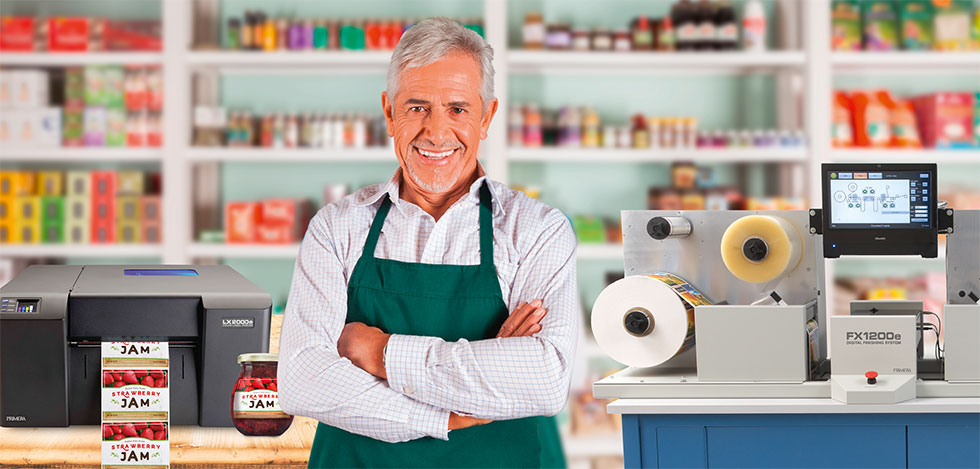 THE KTEC STORY – KTEC GROUP UK – From barcodes to colour 'Labels-U-Print!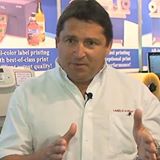 Hello, my name is Robert Knox, I am from a manufacturing technology background with over 30 years' experience in DIY digital label roll printing techniques.  I first printed my own barcode labels on a TEC (now TOSHIBA TEC) model B65 desktop roll label printer back in 1984 to help identify and track pallets of parts through automotive factories when working as a Just-In-Time manufacturing specialist here in the UK.  
I thought the idea of designing and printing labels just when I needed them and using my PC computer was so exciting I started a company KTEC Technologies Limited dedicated to sell and support the specialised machines.
In 2000 KTEC introduced the first full colour label printers to industry and partnering over the years the World Leading digital desktop label printer equipment manufacturers PRIMERA, VIPCOLOR, EPSON, MEMJET, TOSHIBA TEC, DPR and PRINTING INNOVATION each with different models to offer a good choice of digital label roll printing machines suiting most applications and budgets.
Now with more than 5000 installed users KTEC GROUP has grown to be a 100% focused distributor of digital label roll printers and the leader in colour desktop DIY label printing, support and know-how.  Most modern label print machines are easily accommodated on an office desk or work bench and can be connected to a PC computer or Laptop running Microsoft Windows. Some models also connect to an Apple Mac or MacBook.  Many of our machines include a simple to use 'drag and drop' PC label layout design and print program called 'BarTender' or 'NiceLabel'.  We are experts in the supply and support of BarTender Click here for 30 day free trial recommend for the simplest of label layouts to more advanced features like linking labels to select and print from your product list, automated expiry date printing or serial numbering when needed.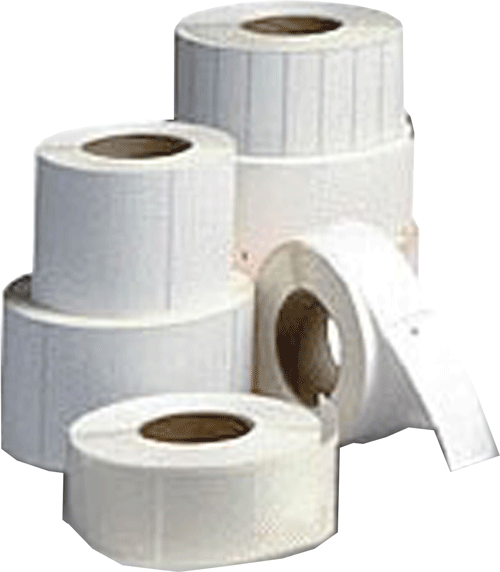 Over the years we have built up a large manufacturing expertise and self-adhesive material stocks so to supply pre-cut low cost blank labels on rolls for our customers machines.  We have a cutter library of over 5000 sizes of labels to choose from Click here to see our cutter list, note the cutter number and request a quotation to our label division on labelsales@ktecgroup.co.uk 
Some of our desk size machines can even use plain label roll and print and optionally laminate and digitally cut labels any size or shape in one pass, popular with those needing many shapes and sizes or those that sell a label print and cutting service to others may like to see our section Digitally Printing Labels For Selling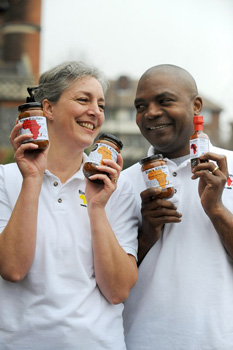 Our brand Labels-U-Print ® explains our mission to help YOU use one of our range of desktop label printers loaded with low cost ready cut self-adhesive labels and connected to YOUR computer; YOU Print Your Own Labels!  There are many advantages….
React to market and product changes quickly.
Print samples to win new business.
Use colour coding to identify different products and make products stand out.
Print your customers brand names and logo's (own brand).
Experiment with new designs at any time.
Print 1, 10's, 1000's, thousands as needed, or better print the exact quantity you need for each order.
Only small stocks of low cost blank labels needed.
Eliminate delays and dependency on others.
Reduced storage space.
Virtually no wastage.

One on the latest trends for short run label printing is to have the flexibility to print full colour designs onto pre-cut blank labels, or lower costs even further by printing onto plain rolls and digitally cutting the printed labels to any shape or size and in exact quantities needed we call AnyLabel.
For example the PRIMERA CX1200e/ FX1200e  laser toner print based system or the NEW SOLUTION (NS) Pro digital printer with its large 2 Litre ink tanks can print onto pre-cut labels or plan roll.  For plain roll for example the NS F22 digital finisher provides either digital steered blade cutting for fancy shapes or high speed servo rotary cutting for higher volumes jobs, as well as waste stripping, slitting and winding to finished roll all in one pass! The option of adding a laminate is included for labels needing and extreme durability.  The AnyLabel method using PRIMERA or NS equipment will appeal to both the user who wants to reduce label inventory and increase operational efficiency, and  a valuable asset to any commercial label print house able to offer customers a short run label manufacturing ability for those not ready to invest in their own machines.
Some useful links and contact details…..
Watch customer videos on our digital label print 'YouTube' channel click this link then use the spyglass to search for a model like LX900e… KTECGroupTV 
See a good overview of our label printing machines from small to large on this site…. Click here 
Have a look at the page – Print You Own labels – See What It Saves You   Click here
Which Label machine is right for me?   Contact our sales team for advice and help in selecting the correct label machine…. Click here
Choose label sizes from our label cutter list…. Click here  then request a quotation with size and quantity needed from labelsales@ktecgroup.co.uk
Visit our corporate web site and on-line store…. Click here
Trade resellers  interested to sell our products contact bcx@ktecgroup.co.uk  (Barcode Express Ltd trade only) 
Telephone numbers speak to our specialist advisors …
Call us 'about HARDWARE and SOFTWARE products for printing labels': 0044 1527 529713
Call us 'about LABELS you need with size, shape and quantity needed' 0044 1527 52971
Call us 'about REORDER labels or inks or print ribbons'  0044 1527 529713
Trade resellers (interested to sell our products) call our BARCODE EXPRESS LTD trade only warehouse 0044 1527 525227  
Happy Labelling
Eur Ing. Robert Knox, BSc, CEng, MIET
VIDEO INTRODUCTION – LABELS-U-PRINT (with the lovely Kirsty)
CLICK HERE << to send us a question or enquiry